Bucking Bulls
Outlawbuckers bulls come from The Baird and Schellenberg families. They have been involved in Rodeos and raising bucking stocks for several years. Our family started raising bulls and bucking horses in the early 1980's. After selling bulls and horses to other stock contractors for several years, Bob and I decided to combine our efforts, and in 1993 B&S Livestock was formed.
We then obtained a CPRA Sub-Contractor card and went to our first Canadian Finals Rodeo in 1995 with 2 bulls (S5 Cattleman's Q91 and S43 Hi Tech). S5 Cattleman's Q91 was awarded bull of the CFR that year.
Since then we have had numerous bulls continuously selected for the CFR, including 2005 when we had a record setting 14 bulls make the trek to Edmonton, Alberta.  In 2009, we broke the record again with 15 bulls going to the CFR.
B&S Livestock has had many accomplishments with our bucking stock. Our bulls were selected to go to 3 PBR Finals in Las Vegas. We have been involved with many PBR Canada events, CPRA/PRCA Rodeos and WPB Bullridings.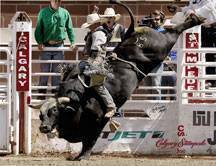 Bomb Proof
5 year old
Still un ridden
Sire is Quams Bomb
Dam is Cow #27 (Single Shot)
Sold to Calgary Stampede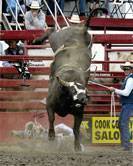 Half Pint
6 year old
Bull of the 2009 CCA Finals
Sire is Rock Bottom
Dam is Cow #10 (Jiminy Cricket)

Convict
2 times to the CFR

PBR Canada Short round Bull

Ridden Only once (91.5 at Lethbridge PBR Canada Event)

---
Bombs Away, Past Champion
Sold to the Calgary Stampede

5 year old
runner up bull of the 2010 CFR
Un-ridden
Sire is Quams Bomb
dam is cow #27 (Single Shot)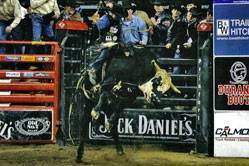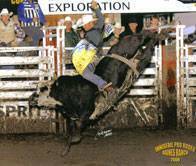 S73 Squirt
(Past Champion)
Dam - 10 (sired by Jiminy Cricket)
4 times to the CFR
*Ranch Raised*
---

301 McLovin
(Past Champion)
Bull of the 2008 CFR

*Deceased Nov.6 2009*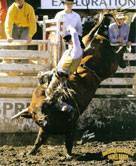 56 Little Hoya
(Past Champion)
Sire - Oscar DelaHoya
5 times to the CFR

PBR Canada Finals 2006 /07 /08

---

S3 Handy Man
(Past Champion)
2 Time Bull of the Calgary Stampede
CCA / FCA / CRA Bull of the Year and Finals
Sold to Big Country Rodeo

Plain and Simple
(Past Champion)
2 times to the CFR
2010 bull of the Ponoka Stampede

PBR Canada Short Round Bull

Ridden only once (Tyler Thompson for 90.25)

---

Z12 Jiminey Cricket
(Past Champion)
2 Time Bull of the Year - Alberta Rodeo Circuit
Highest Score - 93 Points (Chris Shivers)

1 PBR Finals in Las Vegas
2 CFR Finals
Semen for Sale

S5 Cattlemans Q91
(Past Champion)
1995 Bull of the CFR

3 CFR Finals

1 PBR Finals in Las Vegas

CCA Bull of the Finals 1996

Bull of Ponoka 1997

Semen for Sale
*Ranch Raised*
---

N77 Scalp Hunter
(Past Champion)
PBR Finals in Las Vegas
2 Times to the CFR
90 Points - Napa Bud Light Cup
Short Round
Last living son of Jungle James
---